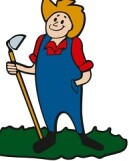 Benoit Michaud
Production Manager
La Ferme Michaud Farm Ltd
'In 2014, we purchased from Phoenix Agritech 89 rolls of Critternet electric fencing to deter raccoons & porcupines from our corn fields. It proved extremely effective.'
Original Letter:
La Ferme Michaud Farm Ltd
635,Route 475
Baie de Bouctouche, NB
E4S 4N9
Tel : (506)-743-6947
Fax : (506)-743-8625
E-mail : fermicha@nb.aibn.com
November 17, 2014
Mr. Bruce Blacklock,
During the 2014 season, we purchased from Phoenix Agritech 89 rolls of Critternet electric fencing to deter raccoons & porcupines from our corn fields.
Damage was minimal & probably occurred prior to fence installation. When I say minimal, I mean less than 3% damage.
Next year we will leave adequate paths for fencing installations on the perimeters of our sweet corn blocks. The fields were already seeded when the fencing was purchased.
This year, we figure we hugely cut our wildlife damage from raccoons & porcupines. We grow over 36 acres of sweet corn.
Thank you Bruce for the advice & service you have provided us!
Benoit Michaud
Production Manager
La Ferme Michaud Farm Ltd